Fast, clean and simple
Thanks to Internorm you hardly notice a window exchange. Our Internorm distribution partners measure your windows and check structural conditions. Together with you, they are developing an exact time schedule.
When refurbishing windows, our distribution partners put great emphasis on cleanliness. Therefore, all surrounding areas are covered and the windows carefully uninstalled. After complete installation, the cover foils are removed and the whole area is cleaned.
Naturally, the windows are changed quickly - one after the other. Don't worry if you have decided to refurbish your windows.
Certified installers guarantee expert installations
Expert installation is a prerequisite for perfect functioning and permanent serviceability. That's why only trained installers carry out window, door and large-scale glazing element installations. Even oversized windows can be installed almost anywhere with appropriate means of transport and by using a crane.
Experience delivery and installation of an Internorm XL Lift-sliding door in our Internorm installation video!
Be inspired
We will show you with a few refurbishment projects how Internorm products contributed to successful refurbishments.
Keeping pace with the times
Modern elements harmoniously combined with old structures create tasteful interplay of old and new. Large window areas not only add clear lines, but also a maximum of view and daylight. The owner chose an Internorm window with integrated blinds. Flush design, frameless appearance and integrated blinds meet architectural expectations perfectly.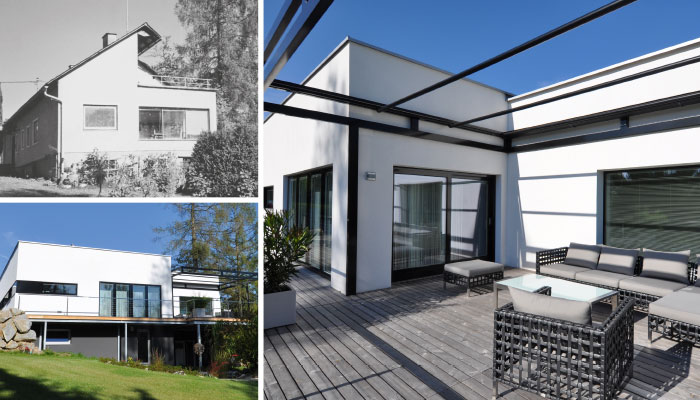 Structured refurbishment
The original house built in 1965 was completely re-designed. Part of the old structure remained, and a new small extension is now creating more living space. The new home is now designed more practically and clear lines provide structure. Many windows and a spacious lift-sliding door allow more light into the interior and connect the living space with the outdoor facilities. The owners have achieved their aim: "We feel really well now and are finally living like we've always wished to".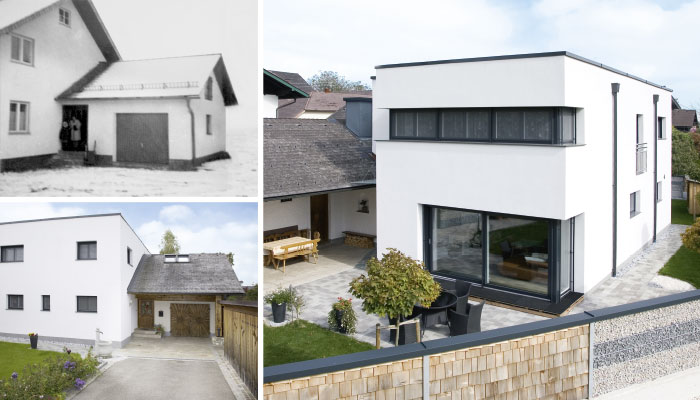 More space & light - more joy
Besides thermal refurbishment, a new floor plan for this 30 year-old house was also important for these owners. Part of the patio was therefore changed into a living area to gain more space. UPVC-aluminium windows KF 500 emphasise the clear style of the owners and much glass ensures excellent views: "These windows with the reduced frames convinced us because of their appearance. The large proportion of glass was crucial for us as we wanted much light in our rooms."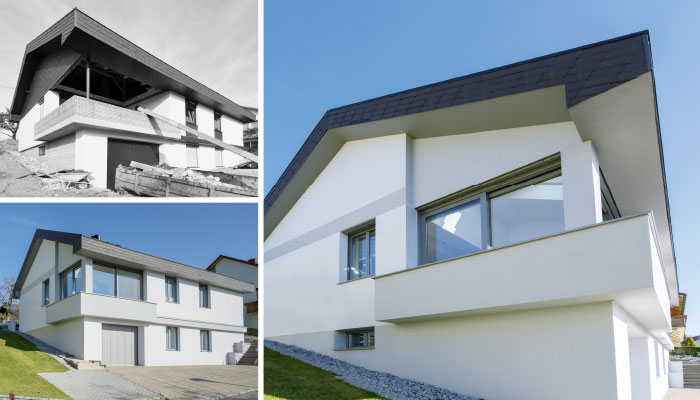 Refurbishment in traditional style
A completely taken-down farmhouse made of timber and stone, was cleaned, newly built up and completed with modern design elements. The result is a very charming and successful symbiosis. The living areas in these traditional foundation walls were adapted by the owners to modern requirements and needs; this created spacious and light rooms. Additionally, an extension was added to the back of the building which allows lovely views of the surrounding nature through large window openings and ensures much light for the interior.