Large-scale glazing - unlimited freedom
Modern glass architecture creates new attitudes towards life. Walls disappear as if by magic and connect the interior to the surrounding nature. Next to fixed glazing and lift-sliding doors made of UPVC, UPVC-aluminium and timber-aluminium, Internorm also offers extra-large glazing such as Panorama HX 300.
Absolute foresight
The challenge to further develop the trend of contemporary architecture and to realise the highest quality is our aim. Therefore, Internorm has developed window systems which create ease and liberality so that you can realise your dream for an open living concept. The ease of Internorm lift-sliding doors and extra low thresholds increase your living comfort.
Maximum openness
Large glass areas extend your living space beyond its real borders and create a new, unlimited sense of space. We can offer you innovative solutions for modern glass architecture with frameless windows, fixed glazing, all-glass corners, generous lift-sliding doors, panorama windows and special solutions. Architectural ideas with maximum openness can be implemented through combining these solutions.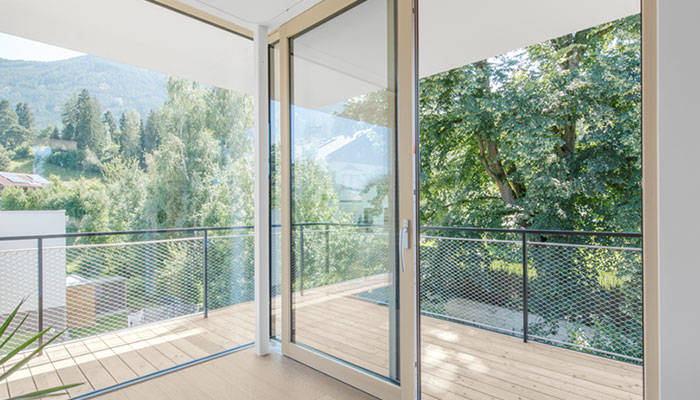 High efficiency and security
Large glass areas bring more light into the interior of your home. Triple glazing ensures excellent thermal insulation - even on cloudy days. Toughened glass panes protect from injuries if glass breakages should occur.
For great ideas
Internorm offers its own manufacturing concept to implement special wishes and requirements of architects and builders: STUDIO XL opens up completely new possibilities in realising individual architectural solutions and generous dimensioning. In small-batch production large-scale timber-aluminium elements up to 12 m wide and 17 m2 glass area are produced, also in combination with the timber-aluminium lift-sliding door HS 330.
Enjoy the experience of delivery and installation of an Internorm XL lift-sliding door in our video!
Installation of an XL lift-sliding door
Have you ever experienced delivery and installation of one of our XL lift-sliding doors? Admittedly, it is quite a spectacle! Watch our Internorm installation video!