Your security and maximum living comfort are important to us. That is why we are offering the new KF 510 – a window that combines innovative technology with minimalist design. Concealed in the casement lies the revolutionary I-tec Secure locking mechanism. Its patented flap mechanism provides maximum security for your home.
The high proportion of glass – made possible by the slim frame of this window – enhances the linear, modern architecture of a home and lets even more daylight into your living area. Since the premium ECLAZ® glass coating is included as standard, you will benefit from improved living comfort in your own four walls.
Unrivalled I-tec Secure locking mechanism as standard (RC2)
Security up to RC3 possible
The I-tec Glazing technology with all-round bonding of the insulating pane provides maximum security as standard.
Slim frames for square design
Harmonious appearance thanks to the omission of the glass strip on the inside of the casement
Concealed locking hardware in the window frame
Premium ECLAZ® glass coating as standard
More daylight thanks to a higher proportion of glass
Optimal insulation due to evenly distributed I-tec insulation in the hollow chamber
Easy to clean thanks to locking flaps that are nearly fully integrated into the casement
Homestory: A SENSE OF HOME
AT HOME WITH ISABELLA & OTTO
The window with reliable security
innovative security
FOR ME AND MY HOME.
With the unrivalled I-tec Secure locking mechanism, you can rest assured that your windows offer reliable protection. Instead of the usual locking pins, flaps are used to securely lock the window casement into the frame. It is virtually impossible to lever out the window. I-tec Secure is integrated into the new KF 510 as standard and is available up to security class RC3.
The I-tec Secure locking mechanism offers:
Optimal security thanks to integrated flaps
I-tec Secure is available up to security class RC3
It is virtually impossible to lever out the window
An aesthetic appearance, as there are no visible locking parts
Easy to clean and maintain
Slim frames for improved comfort
minimalist design
THE WINDOW WITH A SLIM FRAME FOR A MODERN DESIGN AND LIGHT-FILLED ROOMS IN MY HOME
A suitable window design plays an important role in creating a feel-good home. The slim frames of the new KF 510 window, combined with their linear, square design, form the foundation of modern architecture. The slim frame without a glass strip on the inside allows for larger areas of glazing. This lets the light flood into your living areas and opens up the view into nature.
The window is available as uPVC or uPVC-aluminium option, in a range of interior and exterior colours. Whether you opt for traditional white uPVC or weather-resistant aluminium cladding – thanks to its minimalist slim frame, the KF 510 offers a timeless architectural style.
More light for improved living conditions
maximum living comfort
MORE DAYLIGHT IN MY HOME.
Now included as standard with the KF 510
More natural daylight in your rooms for healthier living and improved comfort – this is what the KF 510 has to offer thanks to its slim frame and premium ECLAZ ® glass coating, which is included as standard. The coating transports a higher blue content of the light spectrum through the glass, thereby increasing the amount of daylight entering the home. And this will not only make you healthier and happier, but also more relaxed.
KF 510 - uPVC & UPVC-Aluminium Windows
Thermal insulation: up to UW = 0.63 W/(m2K)
Noise Reduction: up to 46 dB
Security: RC3, RC2, RC2N
Locking mechanism: fully integrated
Construction depth: 90/93 mm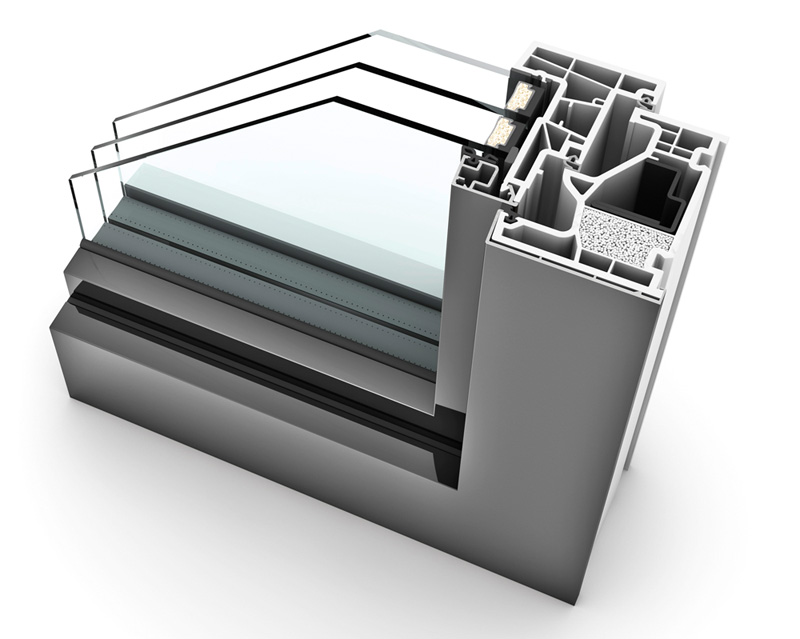 Premium ECLAZ® glass coating: This insulating glass offers improved energy efficiency and the best heat protection. Another advantage: even triple-glazed insulating glass is extremely light-permeable and allows natural daylight to flood every room.
The durable and low maintenance aluminium exterior cladding is available in many different colours to allow for maximum customisation. But even as a white uPVC window, this model is an absolute highlight.
Particularly slim and modern thanks to a low sightlines – the higher proportion of glass allows for maximum light penetration and improved comfort of living.
The square design of the casement and frame is ideal for the "home pure" style of modern and minimalist architecture.
I-tec Insulation
The insulating granules are evenly distributed throughout the hollow chambers, thereby improving thermal insulation.
I-tec Glazing
The all-round bonding of the glass pane with the window provides outstanding stability and protection against break-ins.
The fully integrated I-tec Secure locking system not only provides maximum security, but also allows for easy cleaning.
KF 510 - accessories
Previous
Next
Exterior and interior view
EXTERIOR VIEW - slim frames for maximum light penetration – the KF 510 boasts a square design and is available in different options. INTERIOR VIEW - the square edge casement of the new KF 510 seamlessly blends into the clean structures of modern interior design. Straight window handles and rosettes underline the minimalistic look.
Colours outside and inside
COLOURS EXTERNAL - maximum individuality thanks to different colour combinations: The aluminium cladding colour range of the KF 510 window ranges from a striking stainless steel look, a gentle quartz grey, to exquisite anthracite. COLOURS INTERNAL - the KF 510: a modern window in elegant colours. White appears elegant, bright and friendly. Dark grey is particularly in demand in combination with wooden floors and concrete ceilings, but also for a consistent colour concept.
Handles inside
The discreet, square handles perfectly match the linear design of the window. Despite the square edges, the handles sit comfortably in your hand. The new Secustik® handles from the Internorm product range add a touch of style.
Sun and fly screen
The various positions of the external Venetian blinds give the exterior facade a versatile range of exciting looks. But they also guide the light into the interior as needed. Both Venetian blinds and shutters can easily be combined with fly screens.